On this occasion, the official accommodation of the tournament in Varaždin itself will be limited as the RoboCup Junior robotic sports competition with an expected 800 - 1,000 participants and the seventh edition of TIE FLY (caravan of luxury sports cars) with an expected 100 participants will be held in the city on the same weekend.
In cooperation with the travel agency Vall Tours, we pre-booked accommodation in the Maltar Guesthouse for 20-30 persons, and in the Toplice Sveti Martin resort (30 minute drive from Varaždin). We ask all participants who intend to play Pro Forester to contact us as soon as possible (This email address is being protected from spambots. You need JavaScript enabled to view it.) and reserve their accommodation, because it is very possible that at a later date there will be no other available accommodation in Varaždin and the surrounding area.
Stay in the city of Varaždin
Pansion Maltar is a family run bed and breakfast place where we usually accommodate disc golfers during our Varaždin events. This is a 3* type of accommodation, that provides great value for the costs. Main building is just 3-4 minute walk from the town center, while second building is 5 min on foot further.
| | | | |
| --- | --- | --- | --- |
| Room type | Service | Persons | Price |
| Standard room | Bed and breakfast | 1 | 55 € |
| Standard room | Bed and breakfast | 2 | 80 € |
| Superior room | Bed and breakfast | 1 | 65 € |
| Superior room | Bed and breakfast | 2 | 90 € |

Too book this accommodation send us e-mail This email address is being protected from spambots. You need JavaScript enabled to view it. or get in touch via WhatsApp +385981936437 (Dinko).

Stay in Terme Sveti Martin Resort
This resort is 30-minute by car from Varaždin, and the Pro Forester course. To reach it you need a car, but for players who will be without a car we will be able to organize a shuttle rides. The cost of the shuttle will depend on number of players who will want to use it, but it should not cost more than 10€ per day per person.
The resort is located in the green hilly area and is surrounded only by small villages and forests. If you stay in the official accommodation options you can use indoor and outdoor pools, as well as ball golf / disc golf course and driving range for your warm ups.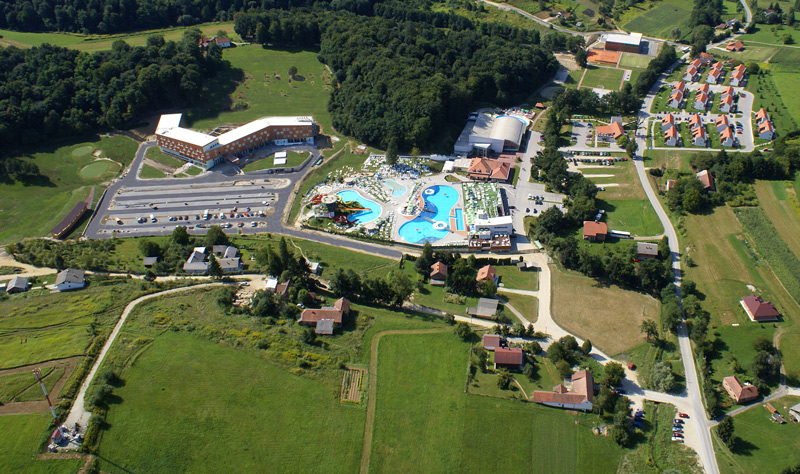 Accommodation options offered there are 4* hotel Terme, 4* apartments both with rich buffet style breakfast included, a villa with a private pool and infrared sauna, and one apartment for up to 4 persons.

Hotel Terme

| | | | |
| --- | --- | --- | --- |
| Room type | Service | Persons | Price |
| Hotel Terme | bed and breakfast | 1 | 92 € |
| Hotel Terme | bed and breakfast | 2 | 140 € |
| Hotel Terme | bed and breakfast | 3 | 180 € |

Too book this accommodation send us e-mail This email address is being protected from spambots. You need JavaScript enabled to view it. or get in touch via WhatsApp +385981936437 (Dinko).

Apartments
| | | | |
| --- | --- | --- | --- |
| Room type | Service | Persons | Price |
| Apartment - stand | bed and breakfast | 1 | 78 € |
| Apartment - stand | bed and breakfast | 2 | 112 € |
| Apartment - stand | bed and breakfast | 3 | 147 € |
| Apartment - family | bed and breakfast | 4 | 188 € |
| Apartment - family | bed and breakfast | 5 | 225 € |

Too book this accommodation send us e-mail This email address is being protected from spambots. You need JavaScript enabled to view it. or get in touch via WhatsApp +385981936437 (Dinko).